Oct. 20: NOAA Inouye Regional Center, Ford Island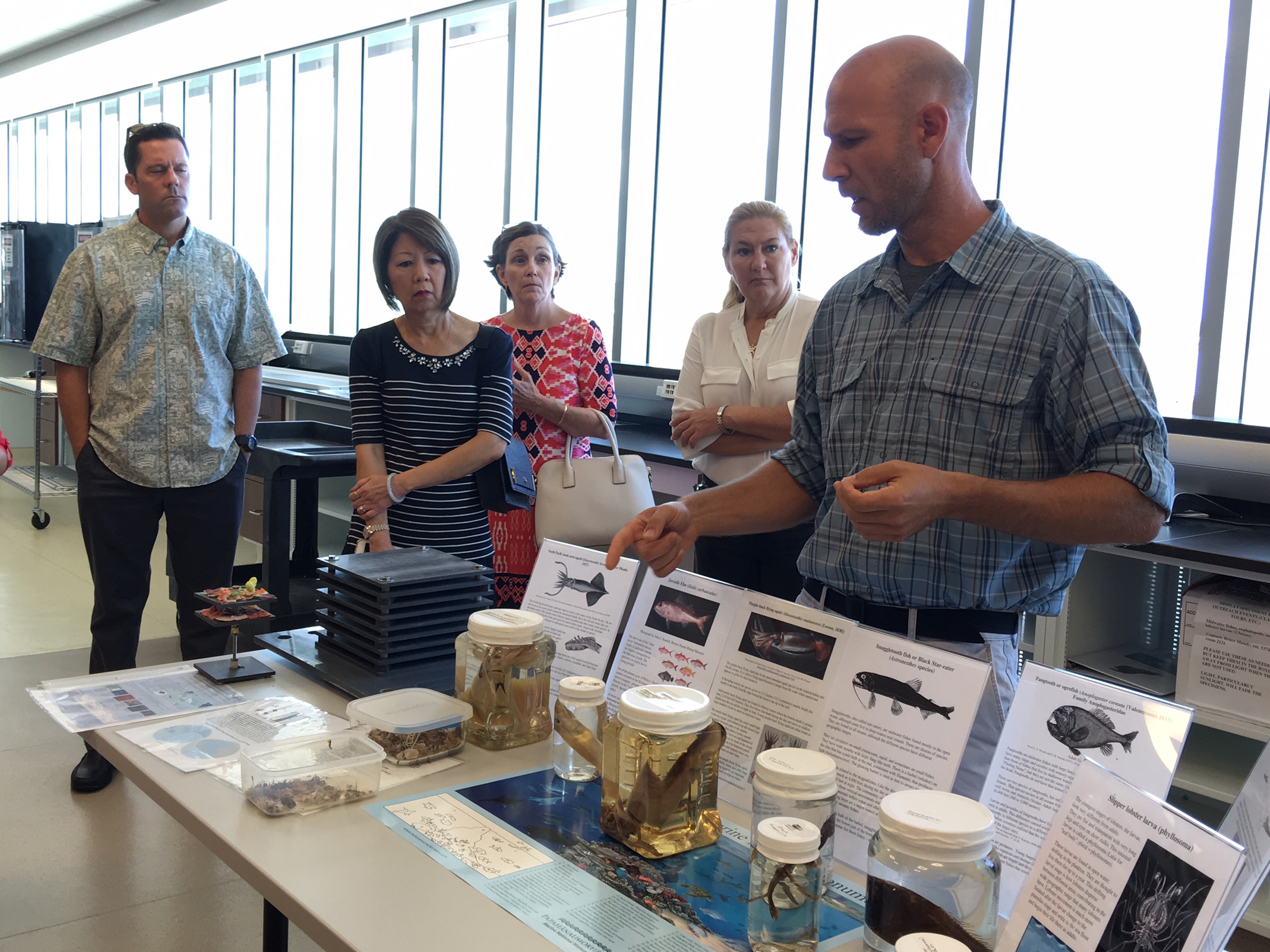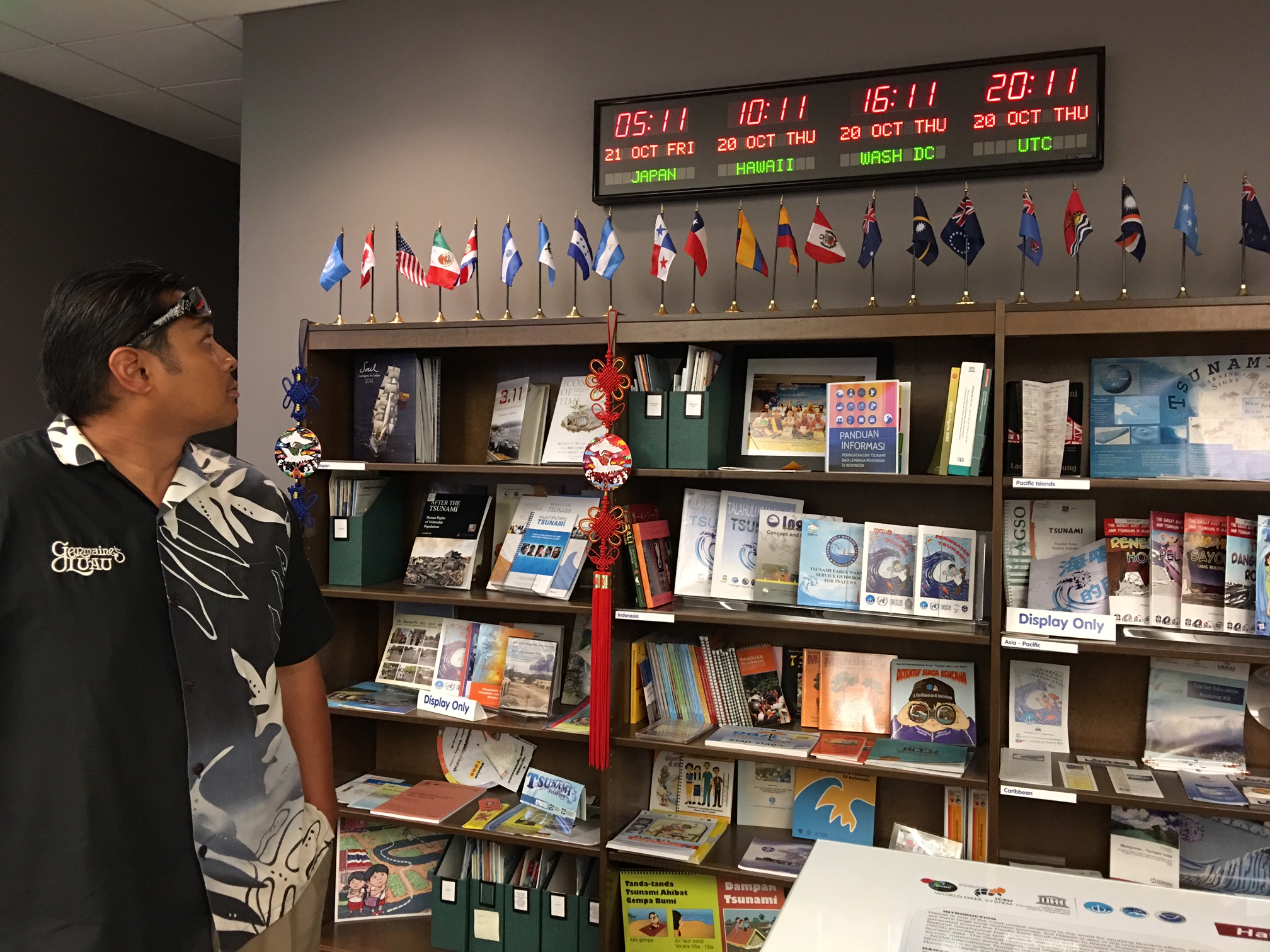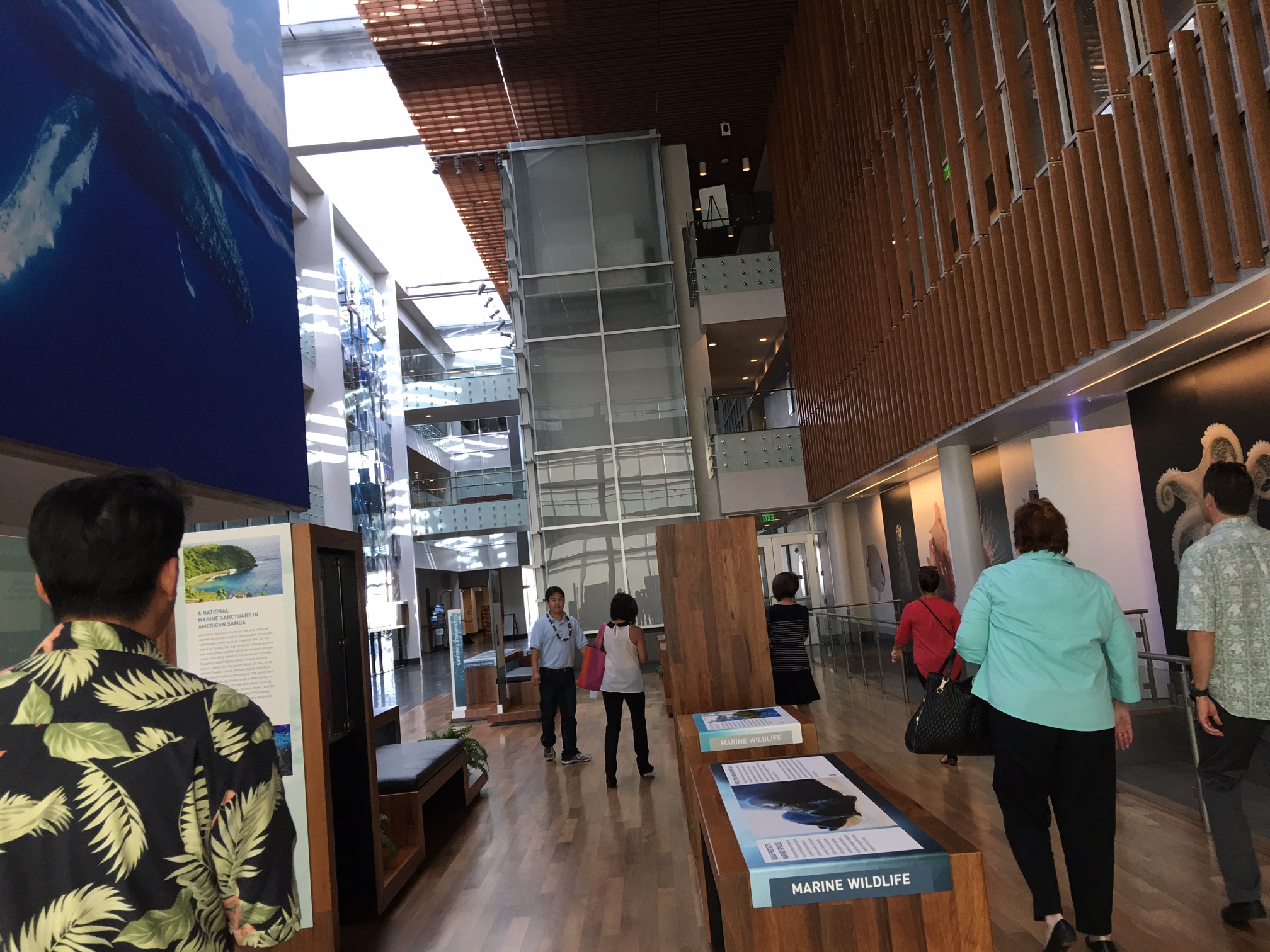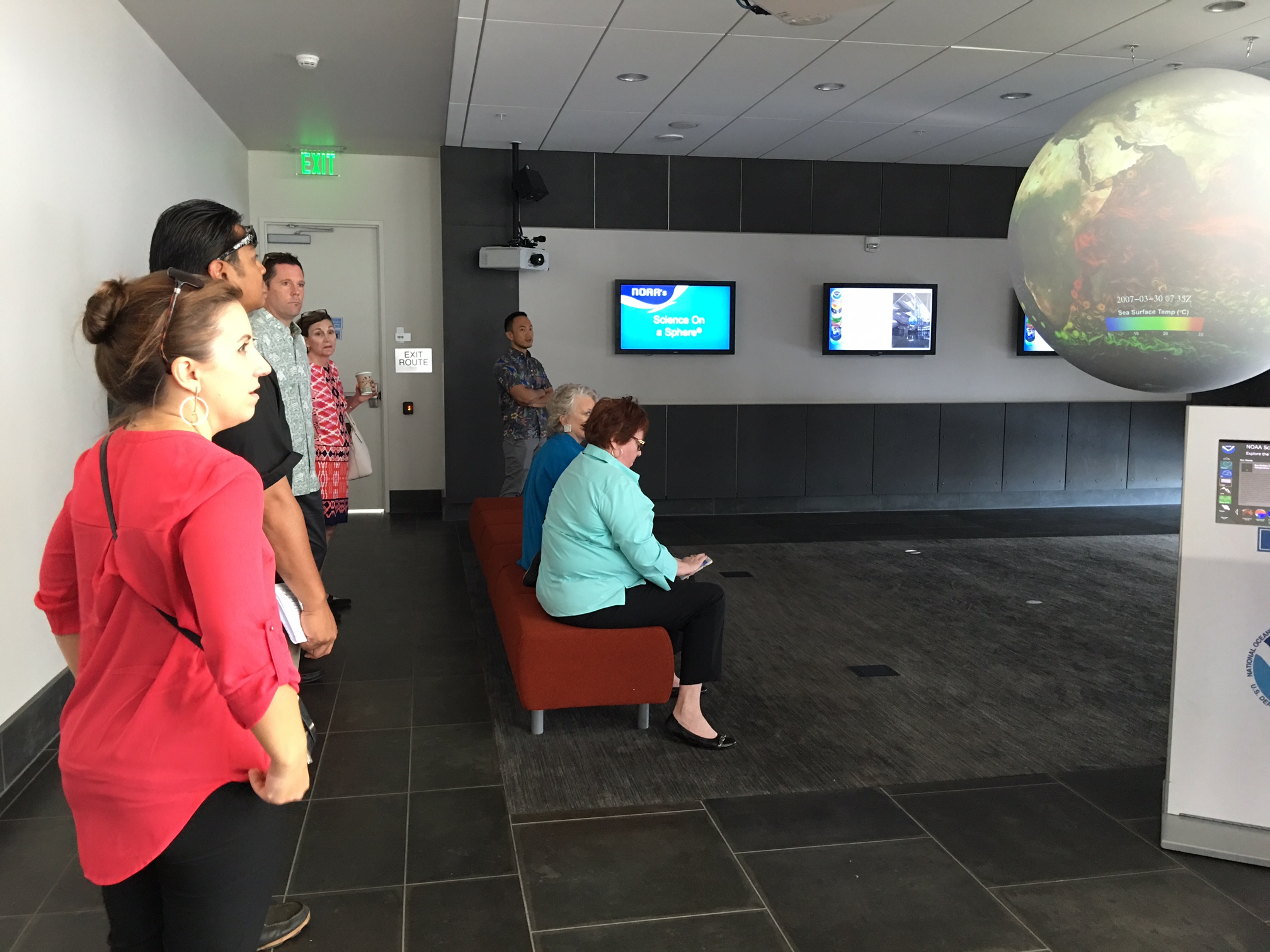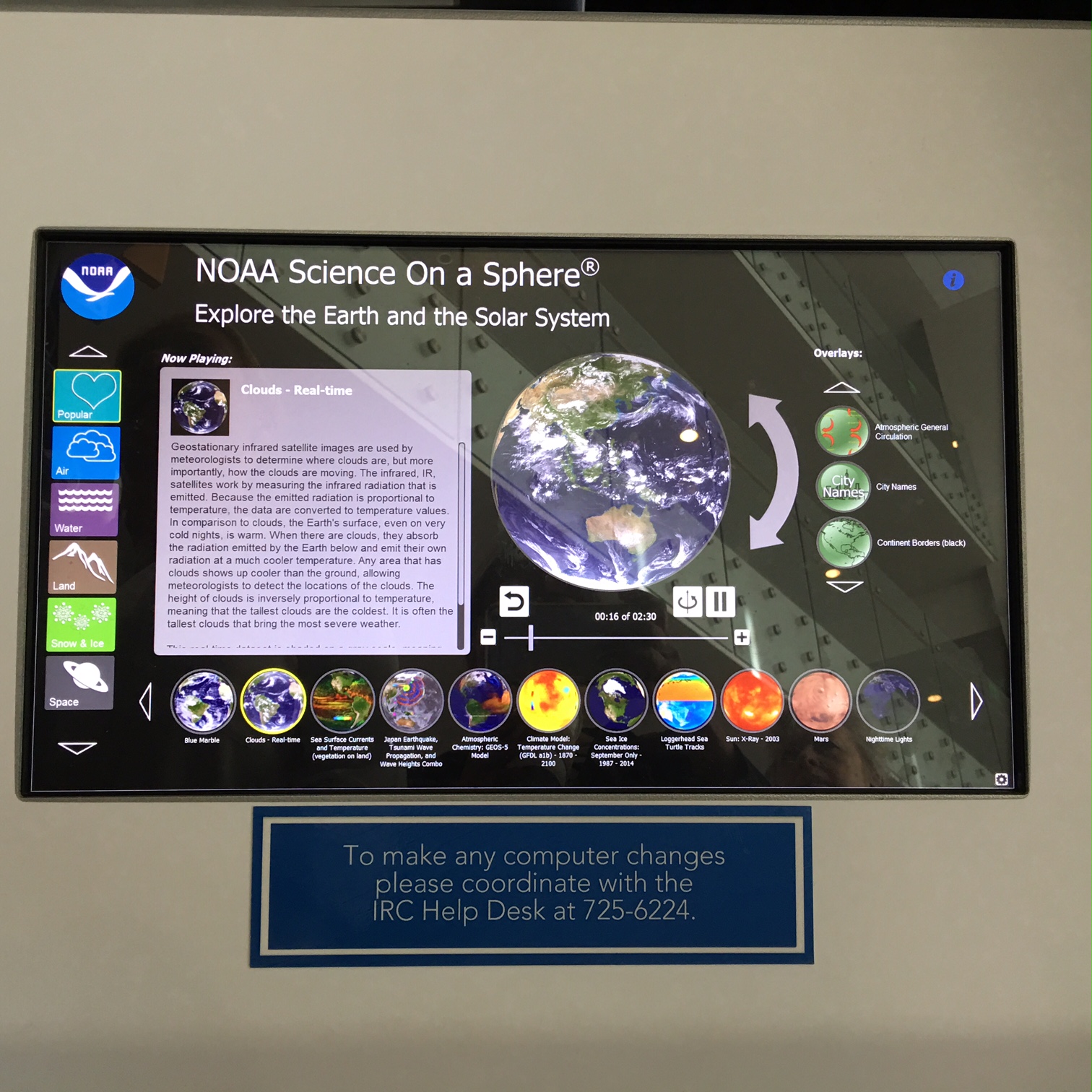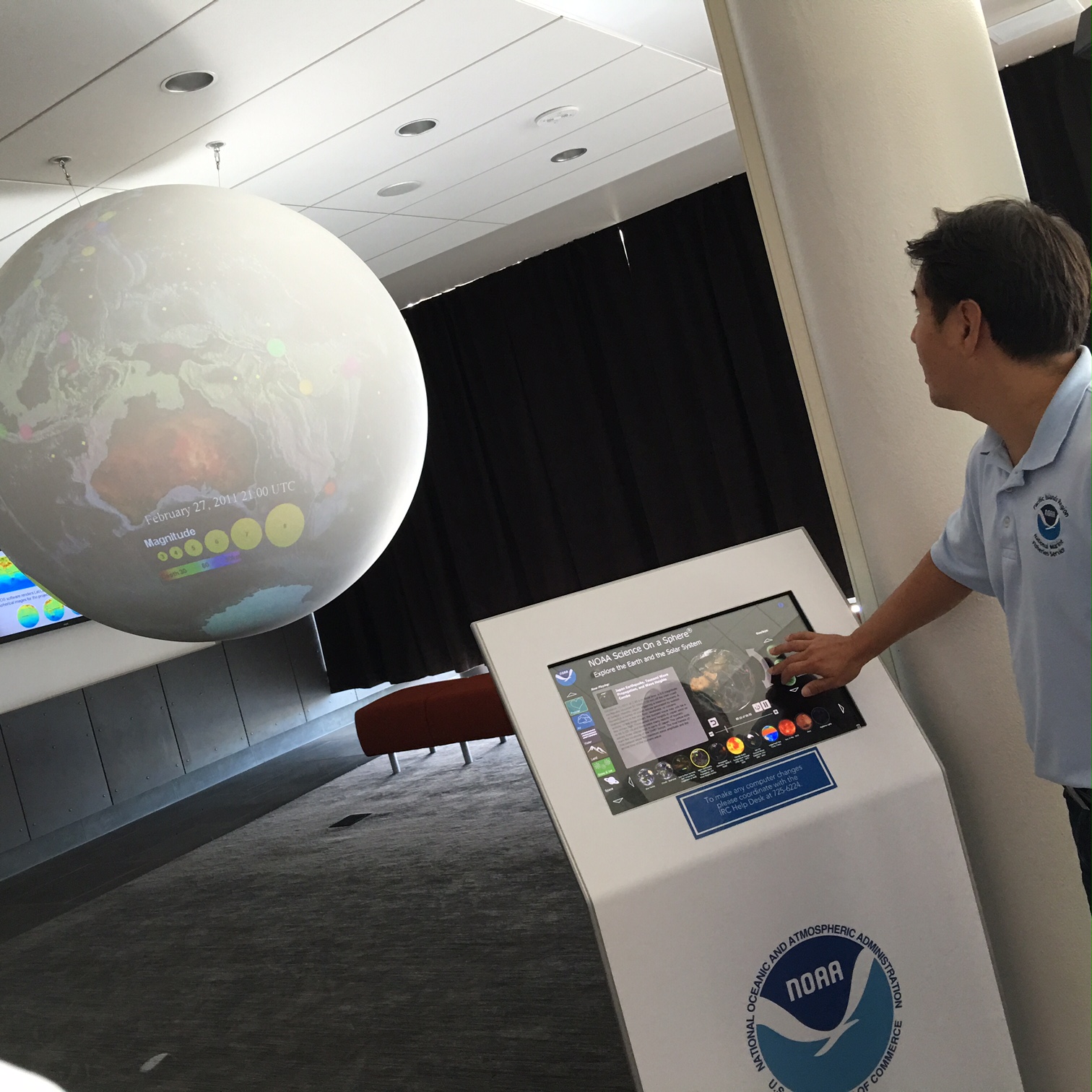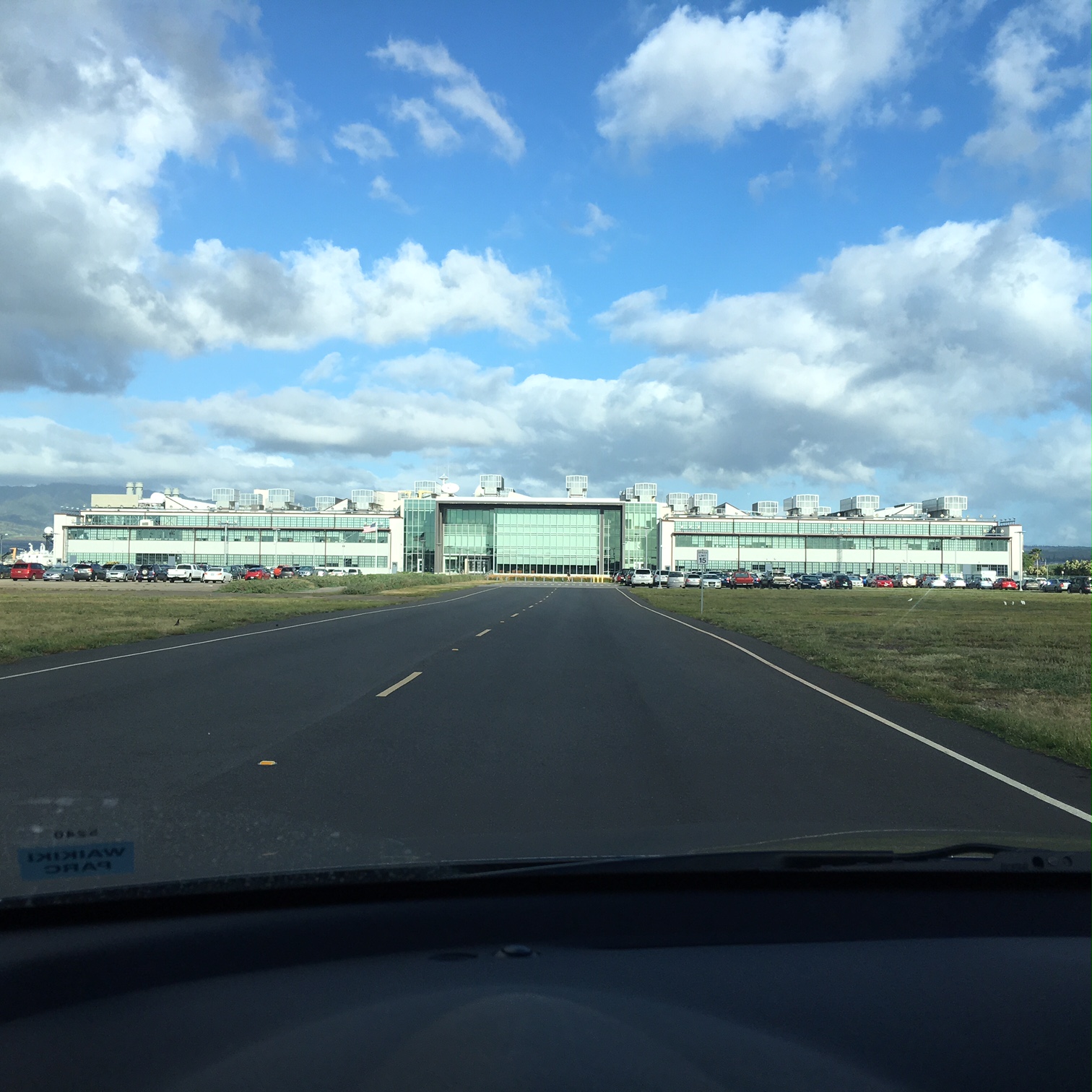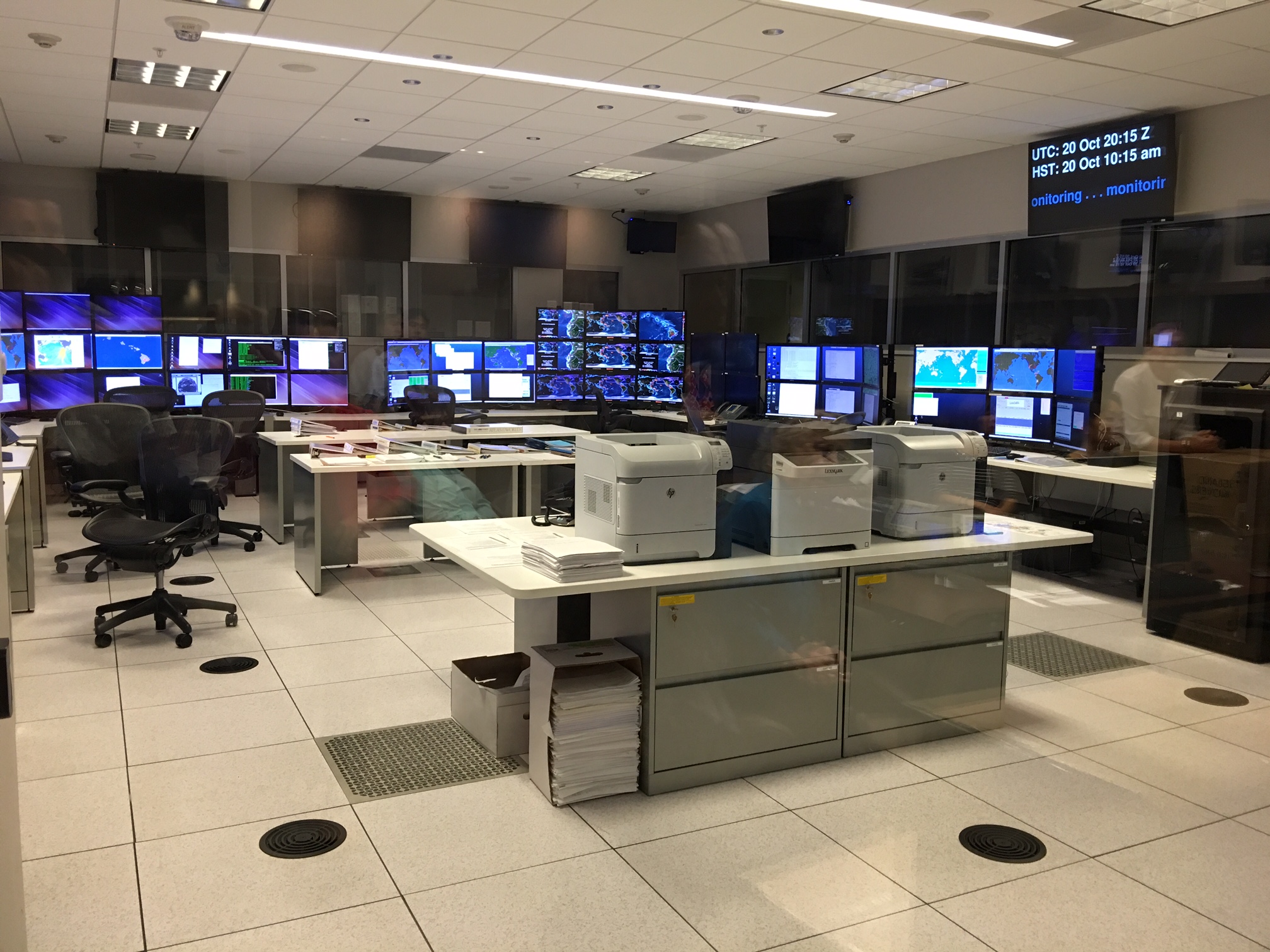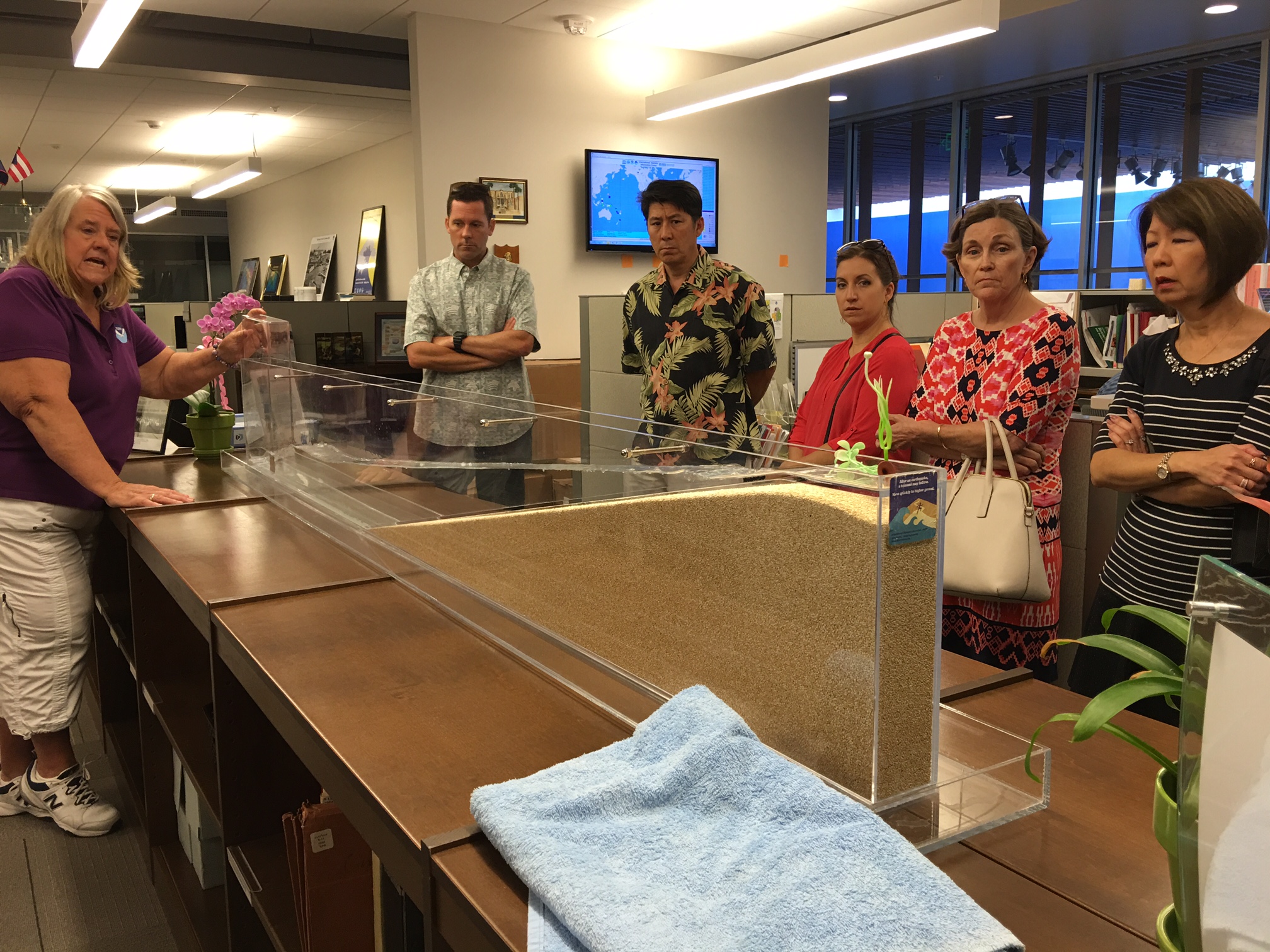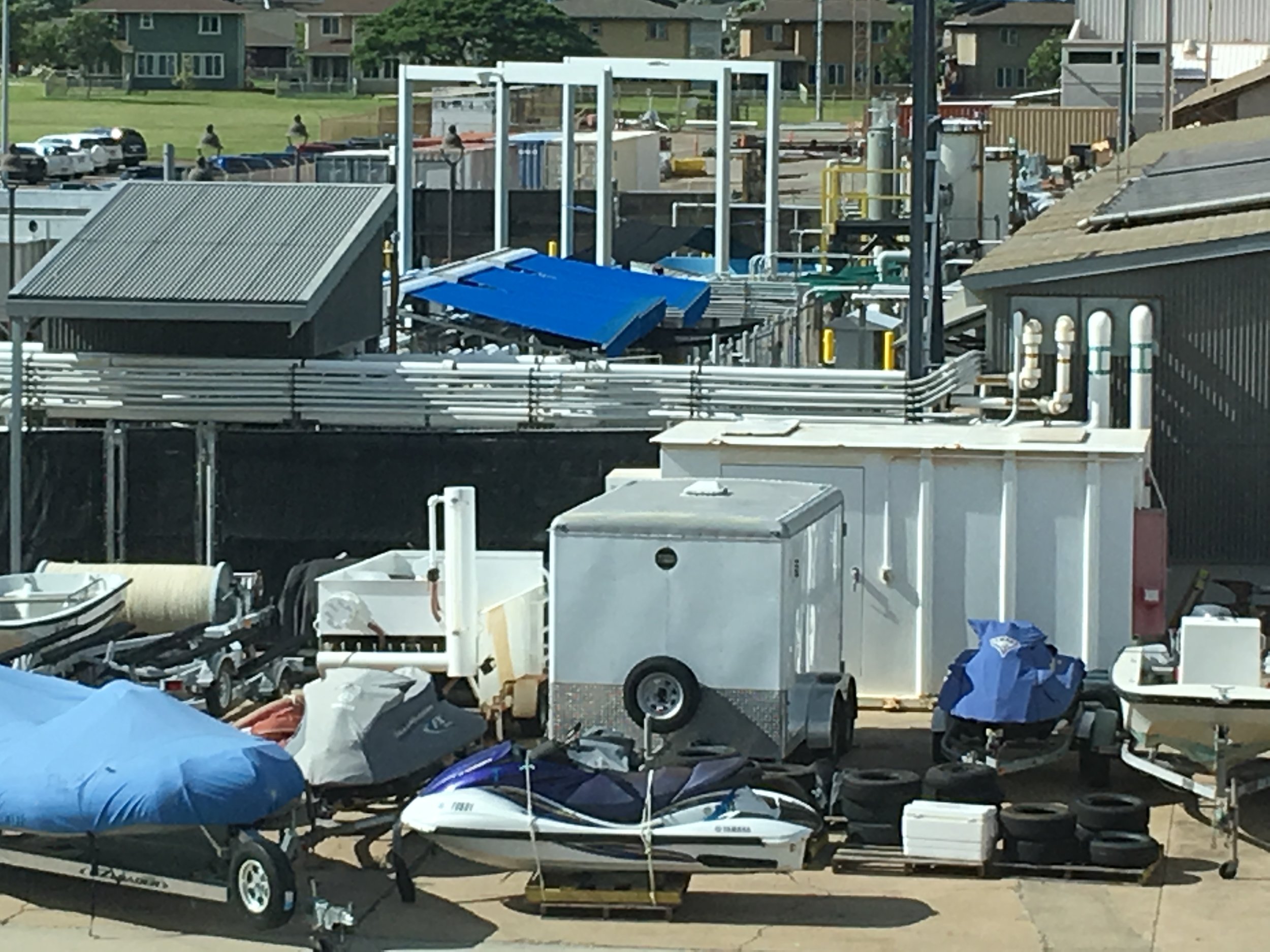 On October 20, 2016, an intimate group of HSBP members had the very exclusive opportunity to visit the NOAA (National Oceanic and Atmospheric Administration) facilities on Ford Island. After a thorough security clearance check and an okay to proceed through the gate onto the island, we were provided with a very informative tour conducted by staff members, Matt Ramsey and Patty Miller.
The tour started with a demonstration of their "Science On a Sphere (SOS)" global display system that uses computers and video projectors to display planetary data onto a six foot diameter sphere, analogous to a giant animated globe. It is an educational tool to help illustrate Earth System science to people of all ages. Animated images of atmospheric storms, climate change, and ocean temperature can be shown on the sphere to explain complex environmental processes. They were even able to show us where sea turtles were in parts of the ocean that they were observing as one of their many research initiatives!
Our tour was then led to their auditorium. Here we learned some very interesting facts:
*NOAA is a $331M project partially funded under the American Reinvestment & Recovery Act *NOAA provides about 400K sf of laboratory and offices *NOA consists of 16 NOAA offices on Oahu now on one campus *NOAA is LEED Gold Certified (environmentally sound design)
*The auditorium's air conditioned using cold seawater from a 1500 foot deep well that brings the cold water up, one of many ways in which the NOAA facility promotes a "very green" building.
*NOAA is limited to installation of solar panels as it is a historic property.
*Noah's work includes exploring our oceans, managing our fisheries, charting our waterways, understanding our climate, conserving our maritime heritage, deepening our knowledge of the Pacific, Atlantic, Indian and Arctic oceans.
*NOAA falls under the U.S. Department of Commerce and under NOAA falls the National Marine Fisheries Service (protects our ocean resources and their habitats), National Ocean Service (helped to remove the humpback whale from being on our endangered species list), National Weather Service (provides weather, water and climate data, forecasts and warnings to protect life and property), National Environmental Satellite Data and Info Service, Office of Marine & Aviation Operators (conducts marine debris cleanups and deep water explorations) and Office of Oceanic and Atmospheric Research.
NOAA has 600 employees
NOAA receives 200 visitors per day
NOAA runs a 24/7 Pacific Tsunami Warning Center
NOAA History:
2001 - Navy developed Ford Island master plan
2005 - NOAA selects Ford Island as site for Pacific Regional Center
2006 - Groundbreaking for Pacific Regional Center Project
2013 - Renamed as Daniel K. Inouye Regional Center (IRC)
Other areas of the NOAA facility that we were able to tour were the laboratory in which research is conducted on the animal life found in our waters, the Pacific Tsunami Warning Center in which we learned about DART sensors, Coastal Sea Level Gauges and Seismic Stations that are all placed strategically around our earth to enable detection of a potential tsunami impact to the Hawaiian Islands. Did you know that there are two staff members at all times monitoring this center and at least one cannot be sleeping!
Our tour ended with a beautiful view of Pearl Harbor from the outside lanai of the NOAA facility and an opportunity to network with each other at one of the staffs' most favorite places - the cafeteria!
Anyone interested in booking a tour of the NOAA facility is welcome to contact Matt Ramsey at (808) 223-4404.